Configuration Settings
You can access this file directly from the Markdown Monster UI via Tools -> Settings: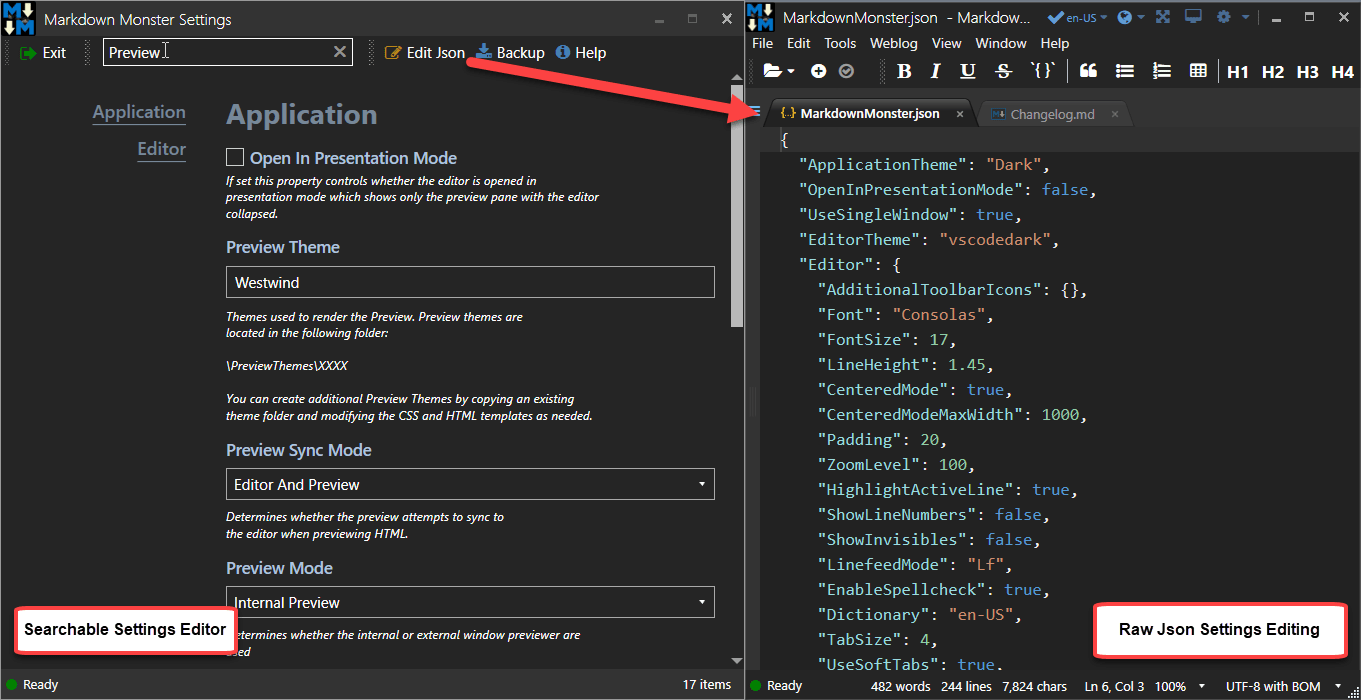 There are a number of settings in this file that control how Markdown Monster behaves. Any changes you make in this document are immediately applied when you save the document (ctrl-s).
The default location of the configuration files:
%appdata%\West Wind Markdown Monster\MarkdownMonster.json
Changing Configuration Folder to DropBox or OneDrive

You can also change configuration folder using the CommonFolder setting in the Markdown Monster Settings at Tools -> Settings. For example, you can easily set the folder to a shared location like Dropbox: CommonFolder="C:\\Users\\rick\\Dropbox\\Markdown Monster Common"
Top Level Setting Values
Following are some of the configuration options:
Editor Settings
The following settings customize the Editor
External Applications
Markdown Monster allows you to open documents and/or navigate your system via a number of external application commands.
Markdown Options
There are a number of options that allow you to configure how the Markdown Parser interprets the Markdown text.
FolderBrowser
ApplicationUpdates
This section of the configuration determines how frequently Markdown Monster checks for new versions.
The remainder of the settings are operational settings that store current state of the application like open documents, window position, last folder used and so on. You see it here in the edit view and you can certainly modify things here, but typically you'll leave those values alone.
EditorExtensionMapping
This section holds collection string values that map a file extension (key) to an ACE Editor syntax language. You can create multiple extension mappings to the same syntax language, so you can map xml and xaml and config files all to the xml syntax for example.
WindowPosition
These section hold your last window positions and widths for various panels. While you can edit these values, these are reset each time you shut down Markdown Monster.
---
© West Wind Technologies, 2019 • Updated: 07/15/19
Comment or report problem with topic